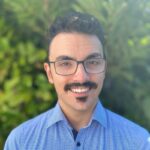 Visiting Address:
Kloveniersburgwal 48
Postal Address:
Postbus 1619
1000 BP Amsterdam
Contact Details:
Email: a.seimel@uva.nl
Phone: +31205252010
I am currently a Postdoctoral Researcher in the EUDENTIFY project at the University of Amsterdam. I received my PhD from the University of Glasgow and hold a dual Master's degree in Political Communication and Political Science from the Universities of Amsterdam and Mannheim. Throughout my doctoral studies I also visited the European University Institute in Florence and the University of North Carolina at Chapel Hill.
My research focuses on how political actors and institutions shape political attitudes, as well as the implications of these shifts for democratic governance and the European Union.
In the EUDENTIFY project, lead by Theresa Kuhn, we aim to develop an integrated theory of the EU institutions-identity-link, considering variations across different policy areas and timeframes. My specific role in the project involves estimating a new European Identity as well as a European Media Mood Measure using a newly constructed dataset that spans 50 years of survey data and 20 years of EU media coverage, respectively.